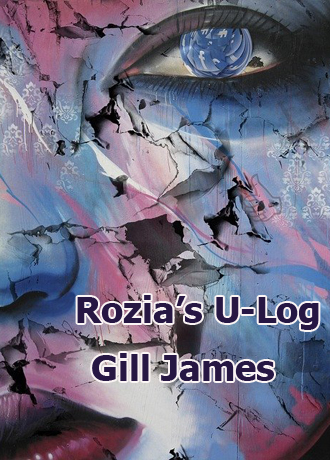 In the year 3519 Rozia struggles to rebuild her shattered life.
She uses her U-log, written in obscure Wordtext that only a few can read, to help herself to recover from a serious injury, to mend a broken heart and to come to terms with a demanding new role. Will her new-found friends be able to help? Espceially when she meets an even greater challenge?
Rozia's U-Log, a heart-wrenching and life-affriming story, bridges the gap between books two and three, Babel and The Tower of Gill James' Peace Child series.
Enjoy reading the episodes now.
Subscribe to the series now
"Other Ways of Being" is an anthology of stories that ask us many questions about:
•otherness: Is a stranger a threat or is he just trying to help? It may be as clever as being a fortune-teller but is it helpful?
•other times: Is the wild woman really a little girl that she used to know? Will they be safe now or should they worry about the bright soldiers marching? Which horror does the deep sleeper hide?
•other histories: Who was that strange child? How did they manage to feed so many people?
•other worlds: Can a couple remain together even when their natures threaten to keep them apart? Is a seemingly incompetent wizard cleverer than he seems? What happens when an alien makes a mistake and almost gives himself away? Do animals help each other in their struggle against the damage that humans are doing? Who exactly is the lady in blue? Is Bradley's the best story ever?
•our near futures: Can a man survive in a dystopian future if he has no more human contact? What can ATMs do when society goes moneyless? What happens when the money runs out? Just how smart will the smartphone get? Or driverless cars for that matter? Where will we find sanctuary when the extremists start winning? What happens to the clones when the blueprint gets sick?
•other sexualities and genders: Will we get used to Toni?
Girl in a Smart Uniform" is the third book in the Schellberg Cycle, a collection of novels inspired by a bundle of photocopied letters that arrived at a small cottage in Wales in 1979. The letters give us first-hand insights into what life was like growing up in Germany in the 1930s and 1940s.
It is the most fictional of the stories to date, though some characters, familiar to those who have read
Each story in this little volume is the right length and quality for enjoying as you sip the assigned drink in your favourite Creative Café. You need never feel alone again in a café. So what's the mood today? Espresso? Earl Grey tea? Hot chocolate with marshmallows? You'll find most drinks in our drinks index.
To Be .. To Become is the theme of the 2018 Waterloo Festival Writing Competition. It is also the title of the e-book, which contains the sixteen winning entries. Some fantastic writing was offered and all of it was potentially publishable. We chose these because they told a good story, had a strong voice and were imaginative in their interpretation of the theme.
Entrants were asked to produce a short story or a monologue. Style was diverse and each story is completely different from the others.
This delightful English language anthology of literary fiction comes to you for under £2.50.
Clara will not be daunted. Her life will not end when her beloved husband dies too young.
She will become a second mother to the children who live away from home at an early age in order to visit a rather special school.
When life becomes desperate for a particular class of disabled children growing up in Nazi Germany she takes a few risks. Is her ultimate faith in the goodness of human beings a fatal flaw that leads to her tragedy or is her story actually one of hope?
A story in three parts: about a special group of young people, about a Holocaust survivor and about the friends she leaves behind
December 2017
I co-edited this book. The stories are funny, sad, poignant - the glitter comes in the shades of dark and light.
I co-edited this book and my story "The Wedding Next Door" features in it. Is a global citizen a citizen of nowhere?
All of the stories in the collection were written by people who have a connection with Salford. Thus many, but not all of the stories, take place in this robust northern city. The call for submissions was in honour of the Shelagh Delaney Day, 25 November. Charlotte Delaney, Shelagh's daughter, selected the winner, Neil Campbell with "Everything is Seen at Its Best in the Dark.
2nd edition of a young adult paranormal romance
A story in three parts: about a special group of young people, about a Holocaust survivor and about the friends she leaves behind
A young adult romantic fantasy
A writing experiment. A young adult novel set in West Bromwich
The third part of the
Peace Child
trilogy.
Updated Kindle version of
Nick's Gallery
Co-edited collection of stories that happened on the days big news broke
Edited science fiction collection
A light paranormal young adult romance
Co-edited anthology of short fiction
The second part of the
Peace Child
trilogy
Manual and photocopiable resource for teachers and writers. Helps students create their own books.
Edited anthology for primary school readers. Cover by Anthony Browne and foreword by Michale Morpurgo. Contains stories by Alan Gibbons and Lauren St. John. Supports Together for Short Lives.
Kiters (Lian Childs) 2011
Fantasy for 9-11
Short stories for young adults
Co-edited short story anthology book. Story by Richard Adams and foreword by Virginia McKenna Launched at Hay in 2010. Supports Born Free.
Edited collection of travel stories
An edited collection of stories for the very young
Edited collection of alternative version of well-known fairy-stories
Edited anthology for primary children
Retold stories from the Bible.
Edited collection
Edited collection of ghost stories
The first part of the
Peace Child
trilogy
The Scum Bag 2009
YA real life story. Suitable 14+
Edited anthology
Edited anthology
Fantasy for 9-11
The World of French Revision 8-9
The World of French Revision 9-10
The World of French Revision 10-11
Fun French revision exercises for primary children.
A real-life young adult story about loss and coming to terms with grief - now out of print - see
A Gallery for Nick
Exactly what it says!
Jason's Crystal 1997
Fantasy 9-11